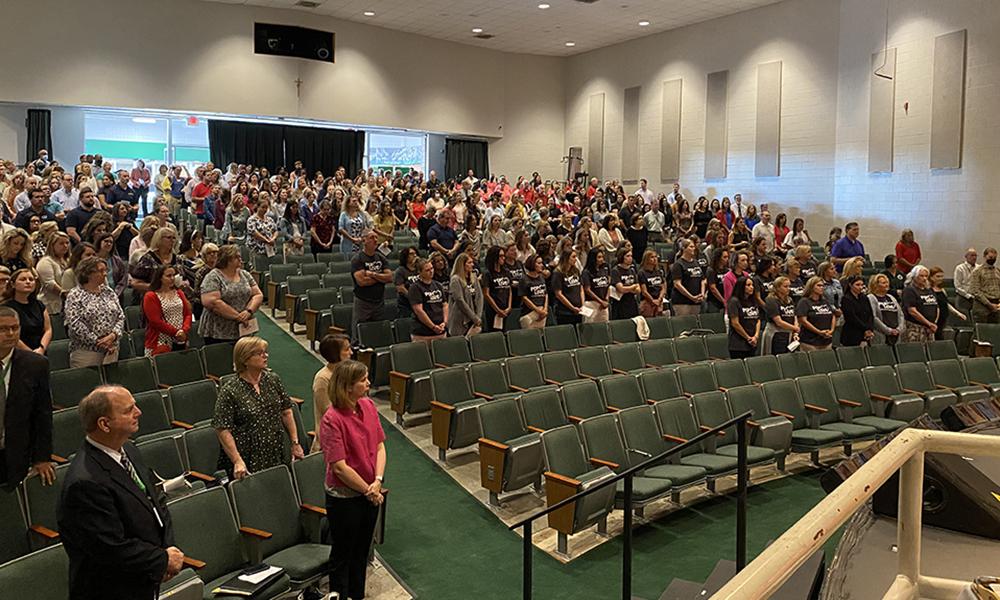 ---
Communities of Excellence
Each year, the Catholic Schools Office sets a theme to build community and align intentional goals within our schools. This year's theme, Communities of Excellence, focuses on the loving, joyful communities each of our schools provide as teachers and staff engage students and families in the beauty of Catholic education. The Communities of Excellence theme reflects the Diocese of Birmingham Catholic schools' focus on faith, academics, inclusion, diversity, and engagement, all the while emphasizing the loving environments of our schools.
The Communities of Excellence theme was also the inspiration for the annual Catholic Schools Formation Day. Held on Friday, Sept. 16, school staff from all over the diocese gathered at John Carroll Catholic High School to pray and learn together. The day began with Mass, celebrated by Bishop Steven Raica and concelebrated by Father Jon Chalmers, executive vice president of John Carroll Catholic High School and pastor of Prince of Peace Catholic School; Father John Belmonte, superintendent of Catholic education for the Diocese of Venice, Florida; and Deacon Doug Moorer.
Father John Belmonte delivered an extraordinary keynote address, centered around the measures of a Catholic school's success and excellence in today's society. Using humor and framing questions to engage the audience, Father Belmonte spoke to the teachers and staff in attendance about the mission of Catholic education, the importance of emphasizing our Catholic culture, and effective best practices through professional growth within our schools.
Superintendent of Schools Margaret Dubose shared an update on the progress of the implementation of the Diocese of Birmingham Strategic Plan for Catholic Education, giving particular emphasis to initiatives in Catholic Identity and academic excellence.
She also spoke with the attendees about the results of the Cognia accreditation engagement review last spring. She commended teachers, principals, and staff for their daily efforts which not only make an incredible difference in the formation of our students each day but also contribute to the great results found by the engagement review team.
Following lunch and including an opportunity for adoration of the Most Blessed Sacrament, participants attended their choice of workshop sessions led by fellow teachers, chancery staff, pastors, and partner organizations. The workshop presentations covered a range of pertinent topics focusing on the formation of our faith, academics, student wellness, and operational vitality, with a particular focus on ensuring that we are reaching all the populations within our schools.
As we continue our mission in Catholic schools, teachers, principals, and staff were certainly inspired and rejuvenated to gather together, pray together, and learn together at Catholic Schools Formation Day.