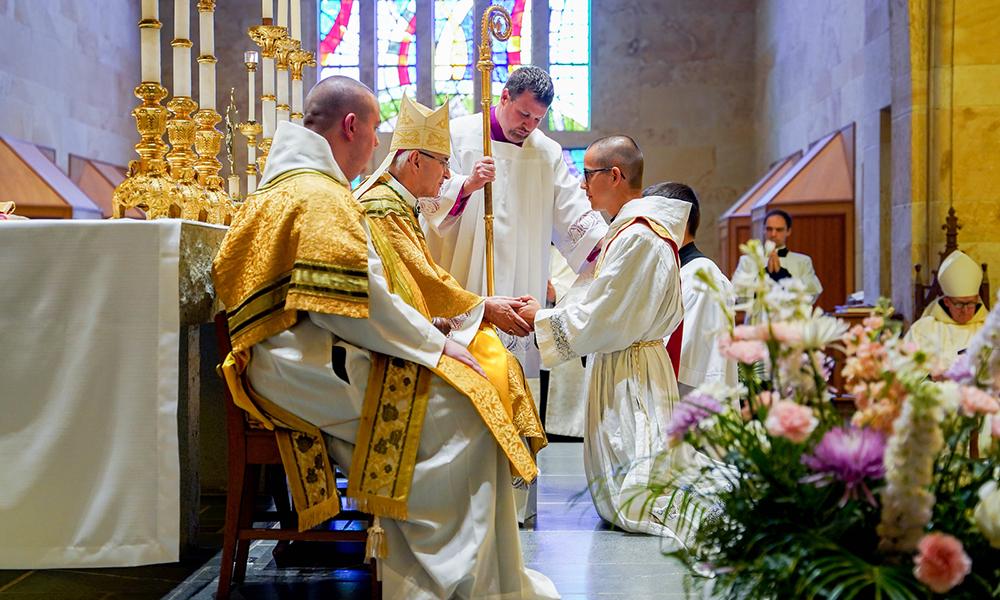 ---
Benedictine Monk Ordained to the Priesthood
On Saturday, Aug. 6, the Feast of the Transfiguration of the Lord, Father Dominic Lee, O.S.B, a Benedictine monk of St. Bernard Abbey, was ordained to the sacred priesthood by Bishop Steven J. Raica, Bishop of Birmingham in Alabama. Abbot Marcus Voss, O.S.B., and the monks of St. Bernard Abbey were pleased to welcome Bishop Raica, the family of Father Dominic, and the many guests to the festive ordination in the St. Bernard Abbey Church. Guests for the ordination included visiting Benedictine monks and nuns, priests and deacons of the Diocese of Birmingham, religious sisters, and many lay faithful, especially from the Huntsville area, from which Father Dominic hails. After the liturgy, a celebratory banquet was held in the Dining Hall, at which Father Dominic greeted the joyous crowd and imparted his first blessings.
The next day, Sunday, Aug. 7, Father Dominic celebrated his Solemn Mass of Thanksgiving in the Abbey Church. He was assisted at his first Mass by two monk-deacons of St. Bernard Abbey, with whom Father Dominic entered the monastery: Brother Paschal and Brother Pachomius. The homily was given by Father Kevin M. Bazzel, who spoke about the relationship between Father Dominic's monastic and priestly vocations. Father Bazzel preached powerfully, saying, "Seen in this light, when a monk is ordained a priest, rather than it being a 'promotion' of the particular monk, it is an added obligation to spend his life directed toward the salvation of the souls of his brothers. He does this certainly by offering the Holy Sacrifice of the Mass for the community, by hearing the confessions of his confreres, and by offering prayers and other sacrifices for the brethren."
Father Dominic is the third of six children of Mr. and Mrs. Davin and Janet Lee, of Huntsville. He was homeschooled under the former St. Peter's Academy, and upon graduation, he began a yearlong discernment process that eventually led him to St. Bernard Abbey. He entered the monastery in 2014 at the age of 19. Interestingly, Father Dominic's sister, Sister Maria Raphaelle, O.S.B., had entered the Benedictine Abbey of St. Walburga in Virginia Dale, Colorado the year prior. She is now a solemnly professed Benedictine nun of that abbey. After making his Simple Profession of Vows on Aug. 15, 2015, Father Dominic began undergraduate studies at Belmont Abbey College in North Carolina. He professed Solemn Vows on Aug. 6, 2018 and graduated a few months later from Belmont Abbey College with a Bachelor of Arts degree in both mathematics and philosophy. Father Dominic began studying theology in Rome, Italy at the Pontifical Benedictine University of Sant'Anselmo in 2019. He completed his Baccalaureate of Sacred Theology just before his recent ordination.
In addition to exercising his priestly ministry at the monastery and at parishes on an ad hoc basis, Father Dominic will be taking up the duty of Master of Junior Monks in the monastery and assistant teacher at St. Bernard Preparatory School.
---
To learn more about the monks of St. Bernard Abbey, please visit stbernardabbey.com.
For Bishop Raica's ordination homily, please click here.