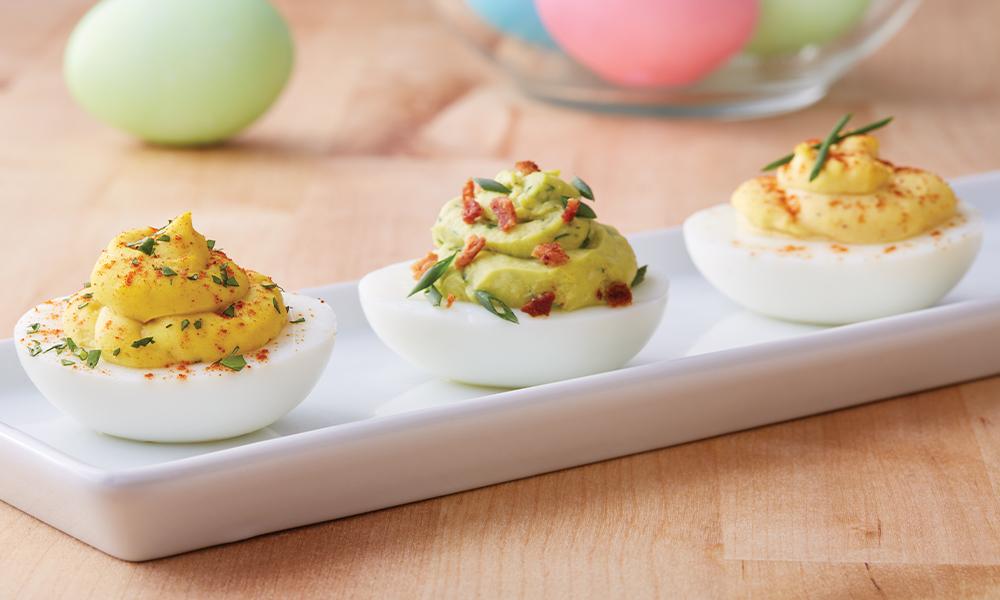 Photography by Shane Folkertsma
---
Angelic Eggs
A Delicious Easter Tradition Rebranded
Have you ever wondered what to do with all those leftover decorated eggs after Easter Sunday? When my kids were just tots, they did not like hard-boiled eggs in any form, so they would get shoved in the back of the fridge for me and my husband to pick away at. Well, the kids are much older now, and they have grown to love them!
A family favorite are deviled eggs. But the name! Where does that come from? It certainly doesn't sound very Easter-ish.
The hard-boiled concoctions can be traced back to ancient Rome where they were served with spicy sauces as a first course. In the 13th century, they started popping up in the region now known as Spain and by the 15th century, the stuffed eggs became widely popular across all of Europe. However, they didn't yet have the name.
It wasn't until the late-18th century that the term "deviling," which describes the process of spicing up foods, gained traction. Hence the name deviled eggs.
But depending on the culture or geographical area, they were also referred to as dressed eggs, mimosa eggs or stuffed eggs to avoid the association with the devil. In the mid-19th century, stuffed eggs began appearing in cookbooks in the U.S., and at the end of the Second World War, they became common at picnics and potlucks everywhere.
Well, it's that time of year when we celebrate Christ's resurrection, and I don't want my leftover Easter eggs to be left to spoil in the back of the fridge. So I intend to transform those boring hard-boiled eggs into something the family will want to dive into. Something … angelic!
---
Michelle DiFranco is a designer and the busy mom of three children.