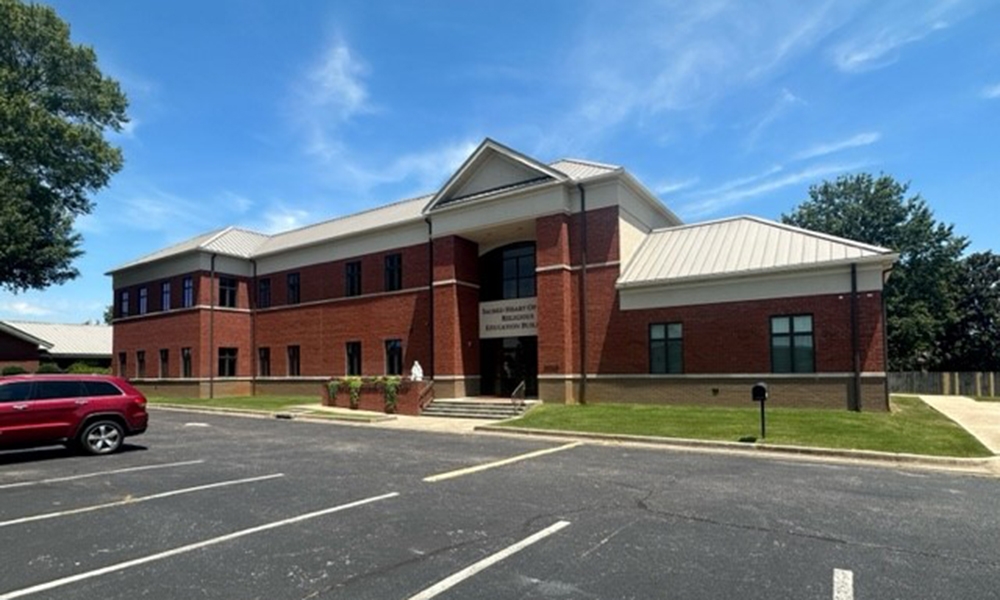 ---
'Let the children come to Me'
St. Paul Parish to open Pre-K program
For almost a century, St. Paul's Parish has been an integral part of the Athens community. Initially, it began as a small congregation in the early 20th century, conducting services in a modest chapel named St. Henry's, located at the intersection of Coleman Avenue and Browns Ferry Road. However, by the late 1920s, the chapel closed, and parishioners had to travel across the river by ferry to attend Mass at St. Ann's in Decatur.
In the 1940s, church services returned to Athens, and were held at the residence of Mr. and Mrs. Carl Hatchett. Then, in 1959, the church acquired property and constructed a small mission church (which stands to this day and is now used as the parish's chapel). Subsequently, in 1967, additional land was purchased, and in 1970, Bishop Joseph Vath, the first bishop of the Birmingham diocese, officially established St. Paul Parish. The parish went on to build a rectory, which accommodated offices and religious education.
As the congregation continued to grow, a new church building was erected in 1992, followed by a parish hall in 1996, and a new rectory in 2004. More recently, in 2014, the church completed a beautiful and versatile two-story religious education building. It is within this building that the church is again expanding its services to establish a preschool, aiming to meet the increasing growth of the congregation and the broader needs of an ever-growing Limestone County.
Limestone County has experienced a burgeoning expansion, being the fastest-growing county in the state of Alabama. Mayor Ronnie Marks of Athens in a recent interview acknowledged the challenges posed by this growth and emphasized the importance of handling it responsibly and supporting the residents. The population surge is driven by the industrial boom in North Alabama, with companies like Mazda Toyota and its suppliers attracting new businesses to the area. However, infrastructure, especially in education, is struggling to keep pace with the rapid expansion. "The schools are full!" said Amanda Gudmundson of Athens City Schools.
Father Tom John of St. Paul Parish sees the unprecedented rise in the population of Limestone County as an opportunity to give children a "head start on their socio-spiritual and intellectual growth." "There is no better time," Father John said," to instill genuine Christian principles and core values in young minds than the mid-formative years of preschool. St. Paul Athens Parish recognizes the need to establish an athenaeum where God's little ones can learn, grow, and form into responsible citizens and committed Christian ambassadors while receiving holistic education."

In May of 2023, Father John made a request to Bishop Raica for the approval of a preschool program at St. Paul Parish. The request was subsequently approved by the bishop and his College of Consultors in July.
Regarding the new endeavor, Father John expresses great enthusiasm and dedication, as do many in the congregation at St. Paul Parish. The project, known as the St. Paul Academic and Spiritual Athenauem, is spearheaded by a dedicated team led by Dana Wolfe. Wolfe has not only more than 25 years of experience in public education and program development but two master's degrees (pastoral studies with an emphasis on human spirituality and secondary social science education) from Spring Hill College, a Jesuit College in Mobile. She is a natural fit to lead this endeavor.
St. Paul Parish is now actively establishing a Pre-K4 program by hiring an early childhood education teacher and instructional aide. Interested applicants should contact the parish office. The parish is also now enrolling students into the program. The initial Pre-K4 class will be a half-day program designed to foster social and spiritual growth, as well as provide a solid academic foundation based on standards-based curriculum. The preschool is scheduled to start classes on Monday, Aug. 21. St. Paul members will receive a 25% discount on registration fees and a 10% discount on monthly tuition, while members of other parishes will enjoy a 25% discount on the registration fee. For those interested in enrolling their children, the application for enrollment can be obtained from the church's office or vestibule. For those wishing to receive the application electronically, please contact Dana Wolfe at 251-978-6759.