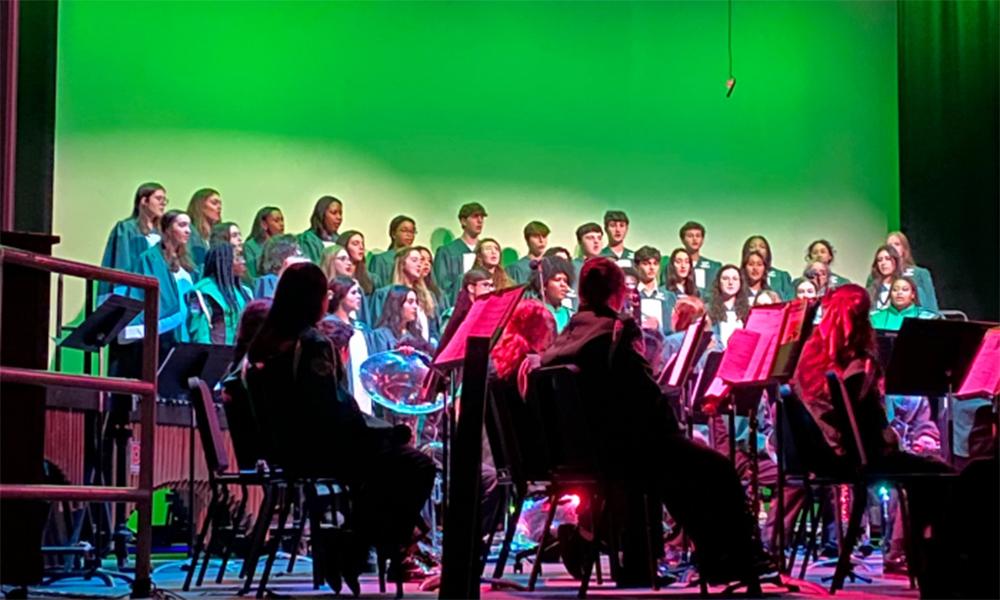 ---
Christmas at Carroll
On Wednesday, Dec. 14, the John Carroll Catholic High School (JCCHS) Fine Arts Department hosted Christmas at Carroll, a showcase of the fine arts programs and a celebration of the 75th anniversary of the blessing of the opening of the school. The Cavalier choirs, concert band, theatre students, and visual arts students came together for one exciting evening of Christmas entertainment and rejoicing. From the beautiful Honors Mixed Ensemble singing of "Veni, Veni, Emmanuel" and the John Carroll Concert Band's timeless rendition of "Christmas Time is Here" to the combined choir and band sing-a-long, the music was not only inspirational, collaborative, and fun but it also highlighted the best of JCCHS fine arts. Other songs performed by the choir included "Come to the Music," "Jazz Gloria," "What Child is This, Sing We Now of Christmas," "Jingle Bells," and "Sleigh Ride."
The band's lineup also included "Ukranian Bell Carol," "Renaissance Christmas," "Carol of the Bells," and a special debut performance by the Cavalier Beginning Band students.
The John Carroll theatre department showcased four of the Cavalier's record-setting 2022 State Trumbauer performances by students Anthony Cucinotta, Amelia Massa, Kristen Cleary, and Janie Spratley.
Following the showcase, students, family members, and friends of the school gathered in The Commons for special treats, coffee, hot chocolate, and hot cider. At the same time, they viewed the table decor art and a unique art gallery created by the visual arts students. Thanks to the inspirational work of the students, the real "reason for the season" was celebrated by everyone in attendance.
The John Carroll Fine Arts Department is led by Department Chair Veronica Wheeler ('80). The choir is under the direction of Ginny Hughes. The Marching and Concert Band is under the direction of Dr. Mark Foster, and the theatre program is led by Joey Plaia ('00).
In addition to the showcase, the evening marked the 75th anniversary of the blessing of John Carroll. On Dec. 14, 1947, city and county civic leaders gathered with faculty, staff, and students for the official dedication and formal blessing of the new Catholic high school in Birmingham, John Carroll Catholic High School.
At that occasion, Archbishop Thomas J. Toolen thanked everyone who contributed to making the vision of a school in Central Birmingham a reality. In particular, he thanked the Catholic community of Birmingham and the many non-Catholic citizens whose pledges and contributions were responsible for the completion of the dream. "We have built something great for God" the archbishop said, "something great for our children."
Speaking of the dedication 75 years earlier, Father Bob Sullivan ('82), Director of the John Carroll Educational Foundation, reminded those gathered of the significance of the blessing, "The blessing of the school - the sprinkling of water throughout the building, in the classrooms, across our athletic facilities, and around the campus - it signified to everyone that the work of God was being done there. That same commitment holds true today. We are here to do the work of God and the work of God is being done at John Carroll."