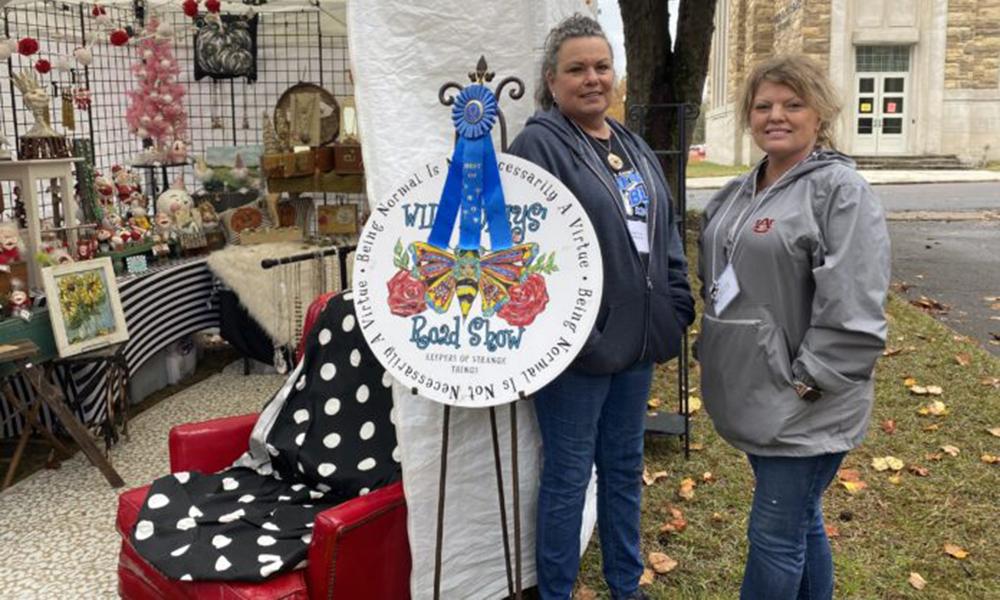 ---
Bernard Blues Successful Despite Rain
Caption: Trayce West and Georgia Duke of Wild Honeys' Road Show won Best in Show at the St. Bernard Blues and BBQ Festival. (Photo courtesy of Sara Gladney, The Cullman Tribune)
---
Saint Bernard Prep School has been blessed again with another successful Bernard Blues and BBQ. Parents, students, faculty, and staff came together to work as one. "It was like a well-oiled machine," according to festival director, Joyce Nix. "God was watching out for us! Our people showed up and put everything they had into making it a fun weekend."
Patrons enjoyed shopping the many arts and crafts booths and listening to some of the best Blues music in the southeast. St. Bernard Choir, Elnora Spencer, and Earl Williams and the Juke Band provided a fabulous day of entertainment on Saturday. Delicious barbeque chicken, ribs, and pork as well as the standard burgers were served up by students. 
The festivities continued on Sunday, despite inclement weather.  "The rain put a damper on attendance," Nix said, "but according to our artisans, their Saturday was the best one-day show many had ever experienced." 
A panel of judges judged the artist work on site.  Winning Best of Show with her incredible booth display of seasonal decorative papier-mâché was Trayce West of Scottsboro, AL. Second place went to Barton and Angela Pierce of Fyffe, AL, who create resin and wood art. Rami Awwad of Tuscumbia, AL won third place for his olivewood creations. 
Other distinguished awards were as follows: Best Fiber/Leather – Shannon Quick of Vinemont, AL; Best Jewelry – Jimmy Bendall of Northport, AL; Best Ceramics – Rebecca Horner of Hartselle, AL; Best Sculpture – Lindanne Phillips of Hayden, AL; Best Wood – Tim Reid of Chattanooga, TN; Best Art – Krel Buckelew of Hanceville, AL; Best Functional Crafts - Ray Cousins of Hoover, AL; Best Decorative Crafts – Ruth Crist of Hueytown, AL; and Best Booth Display – Rose Marcum of Toney, AL.
The $10,000 sweepstakes drawing took place at 4 p.m. in front of the Administration Building. Ruth Burton of Huntsville was the first ticket drawn for the grand prize of the $10,000. Johanna Shadoin of Nashville, TN claimed the $1,000 prize. Larry Grosberg of Huntsville won $500, while Bob Blake of Tallahassee, FL and the Joudon family of Birmingham won $250 and $100 prize respectively.
Nix said she is thankful for all the community support received to host the event. "We are so very grateful to our sponsors who help make our show a success. We appreciate all who visited and volunteered. We couldn't do it without them."
---
St. Bernard will host the 39th Annual Bloomin' Festival on April 22-23, 2023. Artists wishing to participate can visit the website at www.bloominfestival.com or call the school at 256-739-6682 for more information.